Ballina Golf Club moved to its present location at Mossgrove in 1924, but there is clear evidence that the club was in existence since 1910 at Knockleagha, within ten minutes walk from Ballina Railway Station.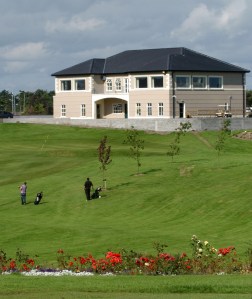 In October 1919 a meeting was held with a view to establishing a golf club in the Quay area. The newly established club appears to have moved on to John Garvey's property, known as Davis's field, on Quay Road for about a four year period. By December 1923 it was on the move again to Mossgrove. In March 1924 the new 9 hole course at Mossgrove was officially opened and blessed by Club President Bishop Naughton.
The club gradually developed at Mossgrove but there were some lean times during the war years when it was barely ticking over. When the war ended in 1945 the membership had been greatly depleted and the clubhouse and course had deteriorated considerably. Improvements were made to the course and by 1953 the bar was renovated and a new lounge built.
The decade 1952 to 1962 was a very successful period for the club. Three successive Connaught Junior Titles were won and the club actually reached the All-Ireland Final. The Connaught Shield was won in 1960 and 1962 and further success followed with the winning of the Club's first All-Ireland, the 1975 Mixed Foursomes title and ending Runners Up in 1978. The clubhouse was updated and renovated in 1974
By the mid eighties it was felt that our attractive, scenic 9 holes would not be adequate in the years ahead. In July 1985 the club was given the green light to embark on the purchase of land with a view to expanding to 18 holes. In September 1995 the new 18 hole course was officially opened by Enda Kenny TD, Minister for Sport. It offers one of the most scenic parkland courses in the West of Ireland. A new ultra modern clubhouse was completed in July 2005 and was officially opened by Lesley Shanks, President GUI in October 2005.
The vision of our 'Founding Fathers' and the farseeing pioneering work of past decades has produced a wonderful amenity for the golfers of the North Mayo Region and a valuable commercial resource for the Ballina area.
For a more detailed history of Ballina Golf Club you can purchase our publication "Even the Golf Balls were rationed". Contact the Secretary's Office